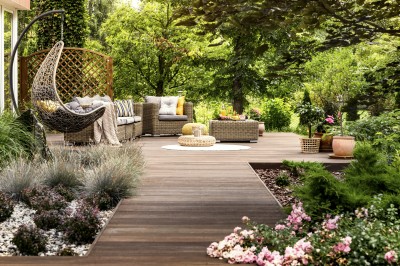 The sun is shining and it finally starting to feel a little more like Spring here in Maine. This more pleasant weather has many homeowners thinking about outdoor renovations. It is the perfect time to tackle outdoor projects!
Realtor.com recently published an article about the cost of backyard renovations that we found both interesting and timely. They shared a figure from HomeAdvisor's True Cost Guide. The the average cost (including labor) to put down a new lawn with plantings and trees on a quarter-acre of land at $7,500-$10,000.
Many factors go into the cost including size of the lot, soil quality and how simple (or not!) you plan to be with your plantings. If you are planning for a deck, pool or outdoor kitchen you can expect the price to jump as well depending upon your design choices.
Before you shy away from the renovation of your outdoor space because of the potential high cost, you should consider the return on your investment. According to landscape economist, John Harris, landscaping can contribute to 28% of your home's overall value. Additionally, Remodeling magazine reports that if you add a deck you can expect to see a 69.1% return on your investment when you sell. On top of being a great way to increase curb appeal to your home, having a renovated outdoor space can bring great enjoyment.
There are lots of ways to save when it comes to backyard renovations as well. Look for native plants that will thrive in this area. This will make them hardier and thus reduce the need to replace them as years go on. You can also tackle many outdoor projects on your own. Doing your own gardening will not only save you money but is great stress relief and exercise!
To read the full article on Realtor.com visit the link HERE. If you are thinking about a backyard renovation and would like some input about how that might affect your home's resale value, give us a call!